The CAF African Cup of Nations (AFCON) has begun in Egypt! Are you in?
From the get-go, the tournament has been intense, exciting and exhilarating with great passes, sleek moves and clear precision going forward for goal. Highly pacy, attention packed with less bookings as well- it has been a back-to-back 90 minutes of great football!
Be that as it may, several teams have tried to play it safe in the first set of opening matches with Egypt getting on the end of a one-nil lead over Zimbabwe in this 2019 opener. Here are list of 5 players to watch at 2019 African Cup of Nations.
1) Mahmoud Hassan Trézéguet:
Mahmoud Ahmed Ibrahim Hassan, commonly known as Trézéguet due to the legendary skill sets resembling David Trezeguet of France is one man to look up to in the 2019 AFCON. The former Al Ahly man is a looming danger to defenders and a terror to the left flank as he breezed past Zimbabwe defenders to get on the score sheet for Egypt in the tournament opener. The 24 year old Kasimpasa man is one not to be ignored despite the intimidating presence of Mohamed Salah in the game. His build up pally with Ayman Ashraf was spectacular to gifting fans a drifter goal- one worthy of being regarded as the best opening goal.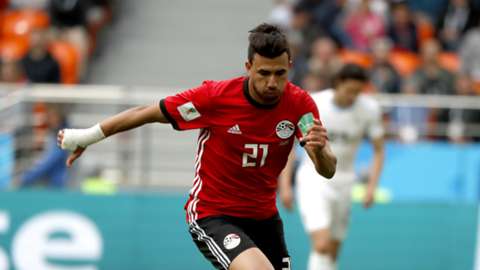 2) Khama Billiat:
A real torn in the flesh of the Pharaohs of Egypt and Mahmoud Alaa- the man of the match winner in the opening cup match, Billiat is a very impressive midfielder that cannot be ignored in this tournament. He was fast and very tricky, with his every move and key passes. Many a time, he was always surrounded with many red shirts. Unfortunately, the Kaizer Chiefs' play-maker was just a candle light in a dark room- the only one providing key tackles and dribbles and making movements going forward. Alaa did well to really isolate him and keep him in check. No doubt, he is one player to look out for.
3) Sony Kaba:
A very entertaining match it was in the Group B game starring the energetic duo of both Guinea and Madagascar. It was highly breath-taking and ended in a 2- all draw at fulltime. The major culprit being Sony Kaba, the on point man for Guinea. Guinea got almost got their breakthrough in the 5th minute when Mohamed Camara located Sony Kaba with a long pass. Unfortunately, he was unable to beat Goalkeeper Melvin Adrien. Sony Kaba got his first goal of the night in the 34th minute. On and about in the game, he was the dangerous man lurking in the Madagascar defense.
4) Odion Ighalo:
An unforgettable goal in the Super Eagles first Group B match will go down in memory of Nigerians for a long time. This goal has been picked as the best goal of the second day of the round of fixtures at the 2019 AFCON. A game which many thought will be a comfortable dominance for the three time champions began to turn sour after an impeccable defense strategy from the Swallows. All that was due to change in the 76th minute when Ighalo latched onto an Ola Aina back-heel assist to score a fine goal that left the Burundi goalkeeper shell-shocked. Which happened exactly 4 minutes Ighalo came on. Ighalo has come on to prove himself as one of the goal-poachers to look forward to in the competition.
5) Hakim Ziyech:
Prior to his amazing campaign of a double with Ajax of Amsterdan, Ziyech was the man Morocco looked to in their opening campaign against Namibia in Group D of the AFCON. The game was evenly matched- the difference being the diminutive 26 year old Moroccan who was more than a handful on either side of the Namibia defense playing wide at all times. He took more than 7 shots at the Namibian goal in the first half and continued to do so until his 89th minute freekick assisted by Keimune that broke the jinx. A defensive error that culminated in an own goal against Namibia. Obviously Ziyech has a lot to prove at the AFCON 2019, before returning to the Eredivisie.
These five players are poised to shine at this current African Cup of Nations. Stay glued. Make sure you are in!